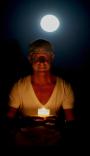 If you've never been to the Inner IDEA® Conference, it will be hard for you to envisage how holistic the programming is, both in general and within discrete sessions. Imagine beginning your day outside with a series of sun salutations by the waterfall or inside with a seamless blend of tai chi, qigong and yoga, taught by a master. After breakfast you spend 2 hours becoming intimately aware of your psoas, or you discover how a transfusion of sound and light and visual beauty and even taste can turn your Pilates reformer classes into a feast for the senses. You catch up on the latest nutrition science or attend a fast-paced lecture on brain health, punctuated by mini cardiovascular workouts for immediate embodiment of the lesson. You watch intrigued as a presenter uses something you've never heard of, called Neuro-Emotional Technique (involving muscle testing, dialogue, meridians and chiropractic adjustments), to tease out old emotional wounds locked in the body.
And it's not even lunchtime.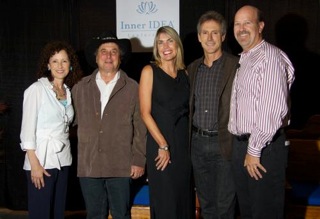 Inner IDEA co-founders Kathie and Peter Davis (far left and far right) with Shaman Brant Secunda (next to Kathie), Inner IDEA director of programming Marcia Hayes and Ironman® champion Mark Allen.
The 5th Annual Inner IDEA Conference took place September 23–26 at La Quinta Resort & Club in Palm Springs, California, bringing together 450 mind-body fitness and wellness professionals and enthusiasts, all united in their aspiration to live more integrated and more open lives—and to help others do likewise.
On Thursday, preconference sessions included "STOTT PILATES® Essential and Intermediate Reformer on the V2 Max Plus™ Reformer," led by PJ O'Clair, and "Pelvic Power for Core Integration" with Eric Franklin, creator of the Franklin Method. In the evening, Brant Secunda, a shaman and ceremonial leader in the Huichol Indian tradition of Mexico, and six-time Ironman winner Mark Allen inspired attendees with tales of how Allen became a champion. What he learned from Secunda about quieting the mind and drawing nourishment directly from nature empowered Allen to accomplish what until then had been out of his reach. Over and over, he was a runner-up--and he knew just what he was up against in his nemesis, Dave Scott: "If I was going to win the Ironman, I was going to need to beat a man who was willing to rinse his cottage cheese." Not something Allen was willing to do. Instead he learned from Secunda how to change his attitude, to avoid being ensnared by sabotaging thoughts, to be inspired by Dave instead of in conflict with him--and to be less concerned with winning than with running his best race.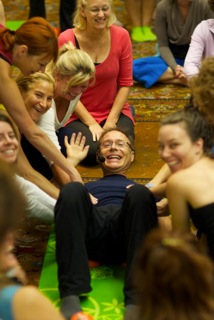 Presenter Eric Franklin has fun as he gives participants "hands-on" experience of the psoas muscle.
Over the next 2½ days, conference attendees enjoyed an exquisite range of experiences, from Susanna Moore's lovely morning session, "The Healing Power of Sound," with quartz crystal and Tibetan gongs; to veteran Pilates instructor Kathy Corey's mat workshop, "The Body's Wisdom—Listening to Movement"; to Mehrad Nazari's "Spirit of Hatha Yoga," in which this wise man reminded everyone how tricky the mind can be: how it will attempt to talk you out of your commitment to a path. "Stay in the center," he advised. Just knowing what the mind is capable of will help. And what about when you need inspiration or encouragement? "Don't do affirmations in front of a mirror," he urged. "Go out and look at the stars. You arethat."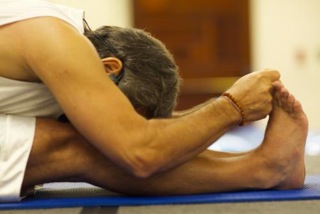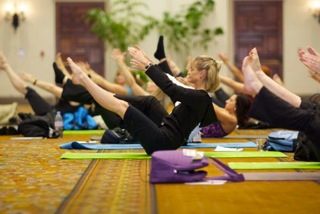 Talking of inspiration, this year the Inner IDEA Inspiration Award went to world-renowned presenter Lawrence Biscontini, MA, whose dedication to mind-body fitness and wellness has been unwavering for years. Accepting his award during a sit-down lunch on Friday, he acknowledged his deep appreciation for his fellow presenters ("You all teach me how to conjugate the word love") and urged delegates to cultivate their spirit and learn to be still. "Fear," he said, "is nothing but frozen joy." That evening, beneath the splendor of a harvest moon, Biscontini led attendees in a moonlight meditation, passing around a Gratitude Candle that each person imbued with their thanks.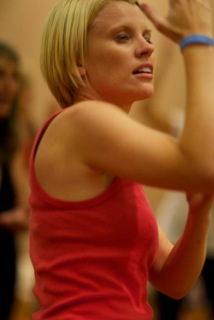 With its peaceful meditation sessions, its chimes and its candlelight, Inner IDEA is a place of sanctuary. But this gathering is as much about energizing the body as it is about quieting the mind and honoring the spirit. When attendees are in their third or fourth yoga session of the day and are asked for one more downward-dog with their best form, they have to dig deep! As they vie to maintain equilibrium on the BOSU® Balance Trainer after two Pilates workshops using new apparatus, they're honing their concentration but also waking up muscles they'd forgotten they had. So when they disperse for another year after 3 days together steeped in Inner IDEA programming, they know that it's not just one part of them that has benefited—it's their whole being.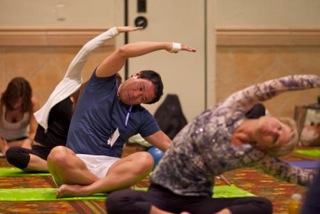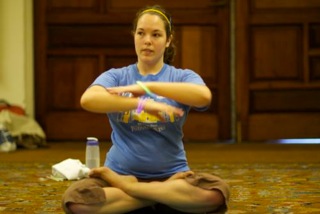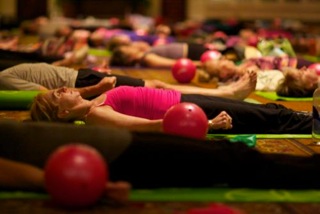 IDEA is grateful to the visionary sponsors of this event, without whom it would not have been possible. Our thanks go to Balanced Body, BOSU® by Fitness Quest, C.H.E.K Institute, Fit and Fab Over 40, GAIAM Inc., Green Apple, GYROTONIC®, Nia Technique Inc., OPTP, Merrithew Health & Fitness, The Gatorade Company and Toe Sox.
Kate Watson is the managing editor of IDEA publications. For the past few years she has been offering a weekly meditation session for her fellow IDEA staff members.